While other parts of the country may be experiencing heavy snowfalls or subfreezing temperatures, we're fortunate to have milder winters here in Covington. Still, we do have some chilly days throughout the season.
Most of the time it's plenty nice enough to get out and about, even in January and February. Some days, though, you might just feel like staying inside. That doesn't mean you have to be a couch potato. In fact, it's better for your body if you don't!
"People tend to slow down their exercise routine in the winter months because the temperatures drop and they want to stay indoors — like some mammals hibernate," said Randy Becnel, the Wellness Director at the Community Center at Christwood. "But it's actually a time when you should 'up' your routine and challenge yourself. When you keep your cardiovascular system in shape, then you can deal with the weather outside, even if the temperature drops to freezing."
So how can you stay active when the weather isn't to your liking? For an inspiring variety of indoor activities for seniors, head on over to the Community Center. Rain or shine, you'll find an assortment of inviting ways to maintain — or elevate — your health and wellness routine.
Randy recommends dressing in layers when you exercise, so you can peel off a layer or two as your body temperature increases and then put them back on when you cool down. That's good advice whether you're exercising outside or in.
Activities for Seniors With a Focus on Fun
In case you didn't know it, the Community Center is also open to area residents who don't live at Christwood, but only to those who are 55 or older and have a membership. That's one of the features that sets our 23,000-square-foot Community Center apart from other fitness facilities and health clubs in Covington and the surrounding area. (We're much more than a fitness facility, as you'll see.)
We've found that most of the people who come to the Community Center for classes or to use the fitness equipment feel more comfortable being around others who are closer to their own age. They're here for their health and well-being, not to be seen in the latest spandex fashions or to show off how much weight they can pile on the machines.
There is definitely a social aspect, though — especially with regard to the classes and the various activities on the calendar each month. After all, the Community Center was created so that older adults would have a place to come and have a good time!
"We try to make it exciting for people to be here," Randy said. "The camaraderie of the classes, being around people their own age — that makes it easier for people to come regularly."
The Community Center is also available to members and residents of Christwood for special events, such as family celebrations and even business or committee meetings.
Specific Examples of Unique Activities for Seniors
Given that the Community Center was established for older adults, all of the classes and activities are designed specifically for those in this age group. Even the fitness machines and other equipment have been selected with seniors in mind. As you may know firsthand, 65-year-old joints (and hearts and lungs) are not quite the same as when they were 25 years old.
Best of all, the entire staff at the Community Center has the experience and expertise to help older adults develop a fitness regimen that's appropriate and enjoyable. Any activity, even if it's something you do on a regular basis, is better when you actually look forward to it, right?
To give you an idea of what you could expect, these are just a sampling of the activities and classes offered at the Community Center:
Yoga – For improving balance, muscle tone and range of motion, yoga can be an excellent choice for seniors. There's also chair yoga for those who want or need some extra support while they are practicing, as well as piloga (a combination of yoga and Pilates).
Aerobics classes – Our Strength & Balance and Strong Bodies classes are good for your whole body, head to toe. They just might be the best time you can have while taking such good care of your health.
Swimming — The indoor six-lane heated pool beckons you to swim laps or join in the fun of a water aerobics class. Swimming and pool exercises are often recommended for anyone who wants to protect their joints.
Walking – One of the most underrated activities for seniors, walking can help with chronic pain from arthritis or lower back pain. While there are hiking trails nearby, the treadmills at the Community Center are a convenient option all year round.
Educational events – The weekly speaker series, featuring TED Talks, Travel Tuesday and Great Courses, will capture your interest and keep your brain fit, too. Starting in February, the sessions with speakers from Southeastern Louisiana University will resume as well.
A Change of Scenery
With all there is to do at the Community Center, residents of Christwood can satisfy all of their physical, mental and social wellness needs right here at home. On those sunny days, though, it can be tempting to get out and enjoy the surrounding Northshore beauty.
For instance, some residents enjoy taking in the sights, scents and sounds at the Covington Farmers Market on Saturday mornings and midday on Wednesdays. Along with the expected local selections of fresh food, there's usually some sort of live music.
Although there aren't as many community festivals and concerts going on in the winter, there's still the Third Sunday Concert Series at Christ Episcopal Church in Covington.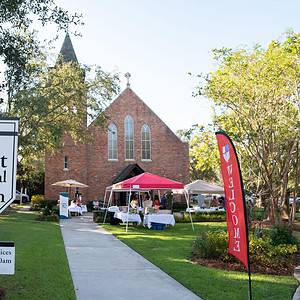 And of course there's carnival season each year in St. Tammany Parish, with all of the assorted celebrations leading up to Fat Tuesday.
We also typically have scheduled outings, like our Lunch Bunch excursions every other Wednesday. This month, there's also a walking history tour of Covington with author Howard Nichols.
Next month, we're planning a mini retreat on the beautiful, wooded grounds of the Solomon Episcopal Conference Center in Loranger.
We're lucky to have so many recreational choices nearby. It makes life much easier for our Activities Director and much more enjoyable for everyone who lives here at Christwood.
Come See Us!
If you're exploring retirement communities in Louisiana for yourself or a family member, we hope that you will include us on your short list.
We don't think you'll find a more scenic setting than Covington, and Christwood is a Life Plan Community. That means residents have guaranteed access to health services such as assisted living, memory care, skilled nursing and rehabilitation if they need them — with no increase in the monthly fee (except for additional meals).
Plus, as you can see, there's an abundance of activities to enjoy here in our community and throughout the Northshore area.
We invite you to learn more about the Community Center and the classes available there, whether you're thinking about living at Christwood or simply becoming a Community Center member.
For more information about the vibrant lifestyle, amenities and other advantages of living at Christwood, be sure to continue reading about our community here on the website. Then, when you're ready, come pay us a visit!